History of the Schroth method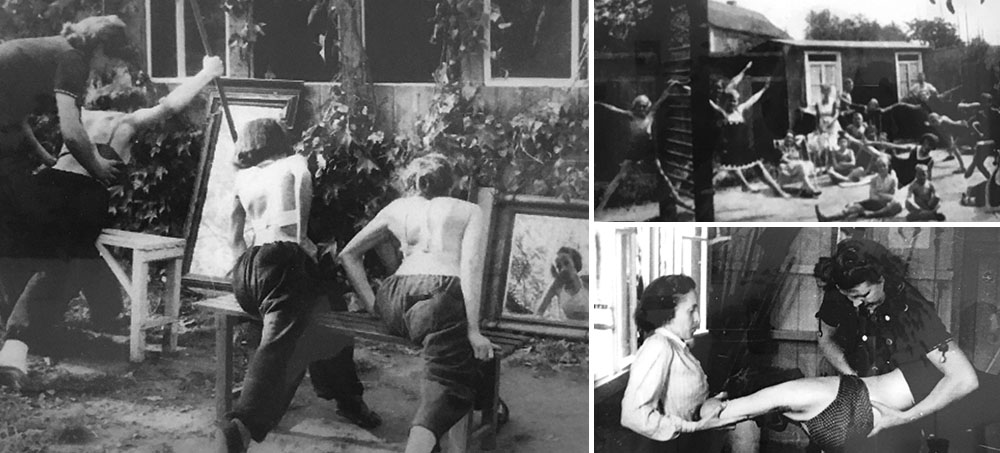 It started with Katharina Schroth (1894 – 1985) in Germany, who at the age of 16 was fitted with a steel brace for the treatment of her moderate scoliosis
Studying herself in the mirror, she assessed her torso shape closely and could see that the prominences on her back had corresponding hollowed sections in her front and that where her torso was expanded sideways, she was compressed/collapsed in the equivalent area on the other side of her body.  She found through positioning she was able to lessen the appearance of these asymmetries.
Katharina also drew parallels between a balloon and her own lungs.  She discovered that she could direct air into the collapsed areas of her ribcage, thereby increasing the internal volume, lessening the collapse and further influencing the shape of her torso.
Katharina recognized that changing postural perception was paramount to the success of improved postural position and control.
Katharina's early professional years began as a teacher at a Business and Language school however she soon left to complete training at a gymnastic school with the aim of treating patients with her own condition.
In 1921, Katharina opened a small institute in Meissen, Germany, where the typical client rehabilitation was twice daily exercise sessions, 6 days per week for 3 months.  Much of the time spent exercising was outside on the expansive lawn of the adjoining gardens. Katharina was a strong believer in the positive benefits of fresh air and sunlight to both the body and mind.
In 1924, she published her first book which lead to her method becoming known nationally and in adjoining countries.  Most clients during these early years had curves exceeding 80 degrees and many travelled from Switzerland and Italy.
Katharina had a daughter Christa, who trained as a physiotherapist.  From the late 1930's, Christa assisted her at the institute.
After WW II Katharina was forced to leave Meissen.  During the 1960's she moved west with her daughter and together opened a clinic in Sobernheim.  The clinic grew to house 150 patients treated for a minimum of 6 weeks duration. In 1969, Katharina was awarded the 'Federal Cross of Merit' for the introduction and development of her treatment for scoliosis.
In the 1970's, studies investigating vital capacity and cardiopulmonary changes found sound improvements and increased the method's recognition.  Christa introduced a scoliosis classification system and further developed the method which she comprehensively described in her book 'Three-Dimensional Treatment for Scoliosis – A Physiotherapeutic Method for Deformities of the Spine'.  The first publication was in 1973 and is now in its 7th edition. This book is available in German, English and Korean. Katharina by this stage was in her 80's and less involved in the running of the clinic.  She never ceased to accept opportunity to talk and promote the method however.
Christa trained other professionals in the Schroth method, including Dr Rigo from Spain.  Dr Rigo has spent 30 years specialising in the conservative management of scoliosis and has developed new bracing techniques and curve classification systems.  He has been imperative in sharing knowledge about the Schroth method internationally by creating the Barcelona Scoliosis Physical Therapy School (BSPTS) which was endorsed by Christa wholeheartedly.  The BSPTS today has recognised training centres for physiotherapists in Spain, Israel and the USA.
The physiotherapists at Scoliosis Physiotherapy have all travelled internationally to gain their Schroth qualification with BSPTS.  We are excited to be the most experienced team of Schroth practitioners in Australia with 17 years of experience between us and to be Australia's first practice comprehensively dedicated to the management of scoliosis.