A thorough assessment is vital to ensure the right advice and course of management is commenced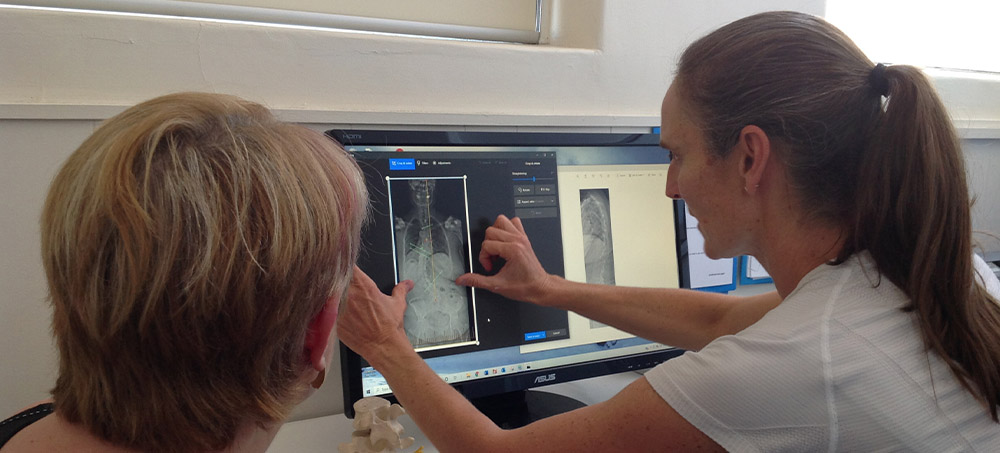 Our international training with the BSPTS is comprehensive and equips us with the specific scoliosis knowledge to be able to assess and guide the client with confidence and care. Our recommendations follow the Guidelines produced by the International Scientific Society on Scoliosis Orthopaedic and Rehabilitation Treatment (SOSORT) and "Looking after the person, not just the curve" stays at the front of our minds.
Initial Assessments
Initial Assessments are booked with one of our Physiotherapists (all of whom are internationally trained with the BSPTS) and take place in one of our private consultation rooms.
For the most accurate assessment, we ideally need to clearly see your whole torso, so clients will be asked if it is ok to remove their shirts. It is important that female clients wear appropriate under garments that allow clear visibility of the back. T-back bras are not recommended as they obstruct viewing of the mid and upper spine. Usual bras or crop tops with narrow back straps are best.
The assessment is a very thorough and full 60 minutes and includes:
Detailed client history (rehabilitation path explored thus far, specialists seen, family scoliosis history, symptoms experienced)

Postural assessment (includes photos in standing of front, sides and back view)

Determination of structural or functional presentation types (including Rigo curve classification)


X-Ray assessment (measurement of scoliosis angles rotations, and translations)

Neurological assessment (reflex testing)

Assessment for associated hip and shoulder asymmetries (in flexibility, strength and position)

Neurological assessment (reflex testing)

Hypermobility assessment

Lung function assessment (Spirometry – Vital Capacity assessment)

Quality of life questionnaires
Following your Initial Assessment, your physiotherapist will discuss with you the best pathway forward for your specific circumstances. You should feel well educated and clear with what needs to be done and why.
Recommendations are made following the Guidelines produced by SOSORT (International Scientific Society on Scoliosis Orthopaedic and Rehabilitation), and the SRS (Scoliosis Research Society) and importantly follow the patient centred care approach of the BSPTS (Barcelona Scoliosis Physiotherapy School).
We strongly promote open dialog between all practitioners involved in your care and happily communicate our assessment findings and thoughts to any specialists and practitioners also involved in your care: past present or future. The best outcomes are achieved when we are all working together.