Welcome to Scoliosis Physiotherapy!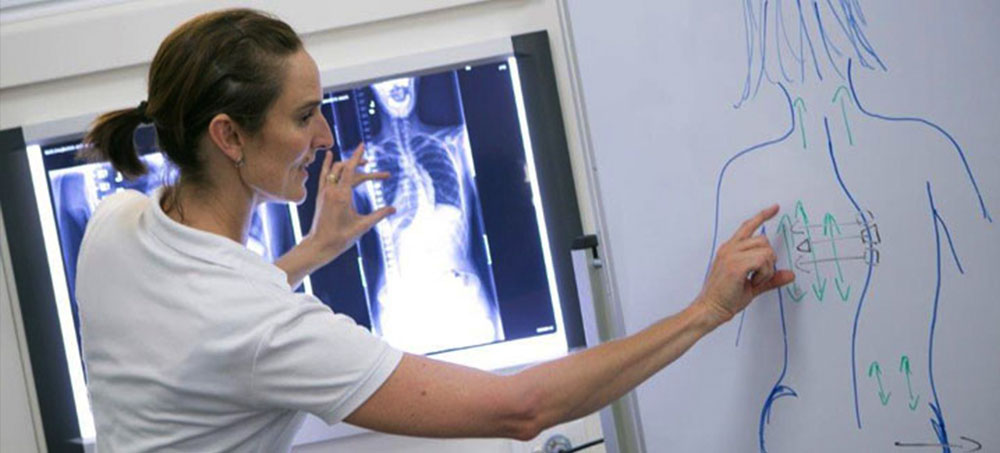 We are Australia's longest established physiotherapy practice dedicated exclusively to the management of scoliosis and other variations of the ribcage and spine
Scoliosis Physiotherapy was created to provide information, guidance and support to those with significant scoliosis and other postural shape changes.
We assist clients of all ages, in fact the practice is a 50/50 split between adolescents and adults.
Our physiotherapists are internationally trained in the Schroth method of scoliosis-specific exercise and also hold qualifications in the Pilates method. An Orthotist provides bracing options when indicated for adolescent idiopathic and adult degenerative scoliosis. We also have a physiotherapist with specific training and interest in neuromuscular scoliosis consulting to the practice fortnightly.
In order to determine the most suitable and effective treatment plan, all clients have a thorough Initial Assessment. This involves a postural assessment, X-ray assessment (of existing x-rays or new may be organised), movement assessment, lung function assessment (where indicated) and the completion of quality of life questionnaires. We have different treatment program options available depending on your needs.
Our scoliosis recommendations for management follow the guidelines produced by the International Scientific Society on Scoliosis Orthopaedic and Rehabilitation Treatment (SOSORT).
We strongly promote working as a team and actively reach out to all other health professional and significant people involved in your scoliosis and health. It is important that all health professionals involved are on the same page, aware of each other and working in the same direction. We are dedicated to increasing the knowledge of allied health and medical practitioners and rarely a month goes by where we are not providing an in-service to a clinic regarding scoliosis.
We hope you find the information on this website informative and helpful. We are a caring team happy to speak to you regarding any queries that you may have at any stage. Please don't hesitate to contact us if you would like any further information.
Welcome to our scoliosis world!